FORE! On Monday, August 22nd, Brennan participated in the Solon Chamber of Commerce's Swing for the Green Annual Golf Outing held at Signature of Solon.
Representing Brennan's corporate headquarters, our golf team included: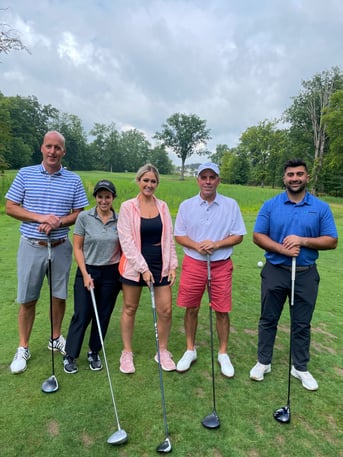 Jeff Worobel, Vice President of Finance (Left)
Angela Sebesy, Director of Human Resources, North America (Second from Left)
Scott Schechtman, National Accounts Manager, Sales (Second from Right)
Anthony Nahra, National Accounts Manager, Sales (Right)
We also had two Brennan employees volunteer for the day:
Priscilla Patricy, Regional Sales Manager (Center)
Caelin Mills, Marketing Manager (Below, Right)
Brennan has been a member of the Solon Chamber of Commerce since 1979—that's over 40 years! We've come a long way since then and are proud to keep our home base here in Solon, Ohio. We appreciate the Solon Chamber's mission to serve as an advocate for the local business community by supporting and fostering vibrant economic growth.
Here at Brennan, we don't just make solutions, we pride ourselves on make connections. Community involvement is made possible through organizations like the Chamber and we were excited to get out on the course and meet members from other local businesses—it's great to be a part of such a tight knit community.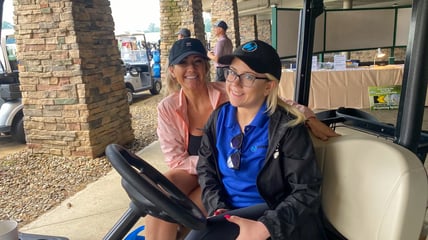 The day started out with a casual breakfast from Chick-fil-A and Heritage Coffee. Guests were able to enter for a variety of raffle baskets, all donated by local businesses—including gift cards, sports memorabilia, hotel stays, spa packages and more! The true generosity and team effort of the event was felt throughout the day.
For the first shot of the entire round, Angela's drive was used—great job! The team also got an eagle, meaning they got a 3 on a par 5… 2 under on 1 hole! They were 9 under par on the back 9 and even had a bogey-free round-- not too shabby!
Although attendees did get caught in the rain once or twice, everyone was a good sport about it and didn't let that stop the fun! The sun came out and everyone enjoyed a full lunch provided by City Barbeque and Domino's. There was even dessert from CLE Cotton Candy and Pop Culture CLE!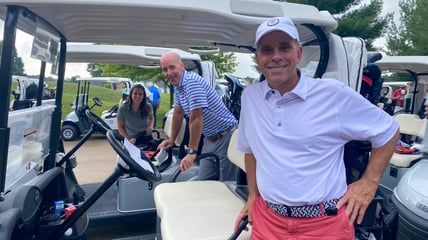 We had a wonderful time interacting with each company that had a Live Hole set up as golfers made their way through the course—and we appreciated the goodies and giveaways, too!


"Scott made friends with EVERY live hole sponsor," Angela said.
Although the Brennan team didn't come out on top, or walk away with any raffle prizes, the day was well spent! Thank you to the Solon Chamber for putting on such a great event and CONGRATULATIONS on raising nearly $50,000! We'll see you next year!