Hydraulic hose assemblies are typically exposed to rugged and harsh conditions. Hydraulic hoses often experience extreme vibration and/or constant movement and contact abrasion in both mobile and industrial equipment. These conditions can damage, or otherwise erode, hose covers leading to leaks, rupture, system failure and personal injury. To prevent the outer layer of the hose from damage, it is usually necessary to use hose protection products that safeguard against these conditions to ensure safe, dependable operation and long service life.


Hose protection products such as wraps, sleeves and hose guards protect against ultraviolet rays, extreme temperature exposure, debris, abrasion, vibration and prevent crushing. Hydraulic hose protection is crucial to reduce potential injuries and ruptures that can cause expensive equipment failure and downtime.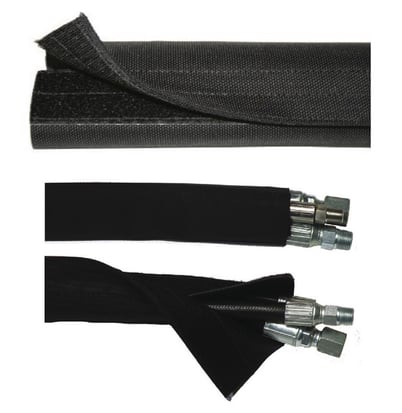 There are a variety of products and ways to protect hoses, including:

Protective Sleeves prevent pressure and fluids from escaping in the event of hose burst. A hose burst can cause system failure or pinhole leaks and produce hydraulic injection to the skin, which can result in serious injury- even to the point of amputations or death. The best type of sleeves are line of sight sleeving, which safeguards operators, equipment and the environment from hose failure.

Hose Wrap made of ballistic nylon protects hydraulic hose from premature wear and guards against catastrophic hydraulic system failure. The importance of hose wrap cannot go understated for any machine that has a potential for wear. An ideal feature is that hose wrap provides sacrificial protection that wears away (instead of the hose) and can be replaced when necessary to keep the hose fresh and extend its longevity.

Hose wrap can be cut to length to bundle multiple hoses together for added abrasion protection and ease of assembly. If a single hose breaks, the wrap can be easily removed to access the faulty hose and a new one can be inserted without fully disassembling the bundle.

Some hose wraps are used for cylinder rod protection against gouges and dents on rods that can diminish the service life of glands and seals by allowing contamination into the system. The cost of a damaged cylinder can be as much as ten times the cost of utilizing hose wraps as a preventive measure. Cylinder rod installation is made easy by cutting the wrap to length, then clamping and installing it at a fraction of the cost of using custom bellows.
Vinyl Hose Wrap is vinyl coated polyester manufactured to exacting standards. It provides optimal dielectric and thermal sealing properties and is resistant to UV and mildew. Additionally, hydraulic hose wrap is extra durable, lightweight, highly flexible and chemical resistant. Its ability for fast and easy retrofit and installation makes it ideal for most applications and its unique bonding process allows for efficient cutting without fraying.

Spiral Guard made of high-density polyethylene is a protective hydraulic hose sleeve that wraps around the hose to guard it from excessive wear caused by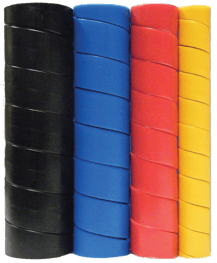 friction, abrasion, external forces and harsh environments. It is easy to install on attached or loose hose and cables. Its high strength, flexibility, UV resistance and beveled edges for added safety make it ideal for any industry. It provides protection for most hydraulic, pneumatic and industrial hose assemblies.

Spring Guards are manufactured from high-tensile spring steel wire and plated to resist rust, protecting hoses from external abrasion and damage. They ensure excellent wear resistance and anti-crush properties. Spring guards distribute the bending radius of the hose to eliminate potential kinks in the line. They are an ideal choice for protecting from cuts and abrasion.

There are many other hydraulic hose protection products that are often necessary to prevent damage to hose assemblies, equipment and injury, such as:
Bend restrictors
Cinch straps
Drip proof plugs
Firesleeves
Grip shrink tubing
Hanging straps
Safety straps
Color codes shrink tubing
Conclusion
Hose protection products are often necessary to eliminate damage caused by flying debris, extreme heat, UV exposure, abrasion, vibration, crushing and other conditions that can damage hose. They extend the service life of hose assemblies, protect equipment and personnel.