Instrumentation is all about measurement and control. Instrumentation engineering is the specialization focused on design and configuration of process systems. And the instruments in a process system are the devices which are used in measuring system attributes. These instruments and their components can include valves, actuators, pressure gauges and even IIoT-enabled valves which can sense and transmit data about the matter that passes through them as well as their environmental conditions.
From tube fittings to process valves, most instrumentation connections on the market do not meet the high standards many applications require. Tubing and tube fittings, commonly known as compression or instrumentation fittings, provide fluid transfer to the components in the system. Their design, along with the connections on instrumentation valves, can vary from rolled versus cut threads, to single versus double ferrules. Though regardless of design, without proper installation the connection will invariably fail.
Rolled Versus Cut Threads

The process of rolling threads through cold forging strengthens the thread profile, where cutting threads disrupts the structural integrity of the material. Thread rolling dies create a thread form that has a rounded root radius, elongating the grains of the material allowing it to flow more evenly and follow the contour of the fitting body. The arrangement of a contoured grain allows for a substantial increase in the strength of the thread, where cutting the thread causes the natural structural integrity of a material to be disrupted and ultimately weakens the thread. The grain flow of cut threads remains parallel to the axis of the part which weakens the thread strength along the longitudinal axis. Cut threads can often fail at grain boundaries because the material becomes weaker than the grain itself, where thread rolling work hardens the material which increases fatigue and wear resistance, plus improves tensile, shear, and yield strength. In fact, static tensile tests of rolled threads have frequently recorded increases on the order of 30% in the breaking strength of the parts. Due to the surface layers of rolled threads, especially in the roots which are under compressive stress, tightening and other forces overcome these stresses to keep tensile stresses from building up and causing failure. These are the primary reasons thread rolling improves the ability for the fitting to resist fatigue stresses.
Take the example of a bolt in tension. A grade 8 ASTM A490 bolt is rated for a maximum tensile strength of 150,000 PSI. If the bolt is pulled in tension that exceeds that rating, cut threads will tend to pull apart stripping the threads or even shearing the bolt, where rolled threads will tend to elongate and provide more resistance before failing.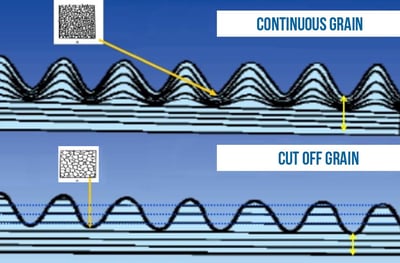 As illustrated above: With cut threads the structural integrity is disrupted by cutting into the material, effectively weakening the thread. Where the rolled thread is a result of compressing the grains at the root of the thread. The contoured grain arrangement from rolling results in a considerable increase in strength of the thread, also improving form geometry, fatigue resistance and surface finish.

Single versus Double Ferrule

Single ferrule tube fittings have a comparatively lower pressure rating and are used in less critical applications than double ferrule fittings. Though they do have an often preferred benefit. Single ferrule compression fittings have one less part, making them faster and easier to install, especially in tight confines. Yet, despite this benefit double ferrule fittings have become the preferred style in measurement and control system design.

Double ferrule tube fittings (otherwise known as twin-ferrule fittings) are available in the same styles and size ranges as single ferrule. The double ferrule design is made up of a front ferrule that is similar to the single ferrule yet has a back ferrule ring which seats into the front ferrule when installed, providing a tighter seal. Double ferrule compression fittings provide a superior connection due to their strong mechanical grip on the tube. In addition, they are preferred for use on tubing with different hardness levels and various wall thicknesses.

Connections on Instrumentation Valves

Though instrumentation valves often have tube/compression fitting connections, there are a many exceptions. Some ball valves may incorporate male or female NPT, BSP or other thread type connections. This is also true for many check, needle, or other valve types. However, with several applications requiring tube/compression fitting type connections, the same holds true as the tube fittings described above. The premier manufacturers of tube fittings also provide instrumentation valves, and most will provide tube end connections of the same style as their fittings. Again, the thread type, such as rolled threads, is an important consideration in valve selection. The same holds true for single versus double ferrule for the tube connection.

Conclusion

Made of various materials, the best instrumentation fittings for most applications have rolled threads and for critical operations double ferrule tube connections should be used for superior leak resistance, and endurance under high pressure, temperature, and vibration. Rolled threads have improved physical characteristics, greater accuracy, and a high degree of surface finish. They are uniformly produced at high rates of production with no wasting of material which also results in cost reductions and should be a prime consideration when selecting fittings. Another important consideration is the selection of double ferrule fittings, which provide a stronger mechanical grip on the tube than single ferrule.

Instrumentation tube fittings are widely used in many industries, including oil & gas and aerospace, as well as industrial, construction and agricultural equipment.

Sources Include: