Preventative Maintenance

Preventative maintenance (PM) of a hydraulic system is a crucial function to maintaining the service life of equipment, reducing costs associated with unplanned equipment shutdown and the safety of personnel.
One the most important considerations in a PM plan is addressing stored hydraulic energy, such as a pressurized hydraulic reservoir. Pressure must be released from the reservoir before replacing hydraulic fitting types, hose or any other maintenance procedure.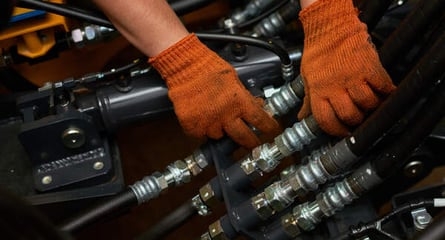 Otherwise there can be a high likelihood of the violent release of hydraulic energy which can cause serious equipment damage or bodily injury. To avoid this, measures to ensure maintenance of hydraulic systems must be taken to safely release the pressure prior to disassembling any part of the system.
A hydraulic PM plan should follow the equipment and filter manufacturer's recommended maintenance schedule, take into consideration the working environment and use test points to draw samples from the line for fluid testing and analysis to ensure the system is free of contamination. Regular standards and procedures should be documented and adhered to for the proper maintenance of any hydraulic system.
Hydraulic system PM procedures are straightforward when followed properly and on a regular schedule. A preventive maintenance schedule of a hydraulic system is based on known or suspected failure modes. This includes inspection and replacement of old hose, ensuring connections are properly matched and meet specification, plus checking for contamination that can clog the system particularly in an inline valve.
Like changing the oil in your car, preventive maintenance is a regularly scheduled procedure that maintenance techs must follow. And because maintenance of hydraulic equipment is so critical, effective procedures must be documented for each task. Because maintaining different types of systems may require different procedures, the specific equipment's PM plan must be closely adhered to and include a minimum of:
Step by step Instructions
Any possible hazards inherent to the specific type of equipment
Environmental concerns
Safety precautions for each step
Specific tools or equipment required for the maintenance of the specific equipment
Traceable parts for performing the procedure(s)
---
This blog is an excerpt from our latest whitepaper, 4 Considerations for Safe Hydraulic System Maintenance. Click here or the link below to download your free whitepaper!
Primary Sources Include:
• Discharging Oil Under Pressure To The Atmosphere
• FluidPower World
• ForConstructionPros.com
• Hose Assembly Tips
• Hydraulics & Pneumatics
• Mobile Hydraulic Tips
• Mobility Work
• National Ag Safety Database
• Occupational Safety and Health Administration
• Reliabilityweb.com

---